Hernan Cattaneo (5hrs+). Fri 28th Oct. Billboard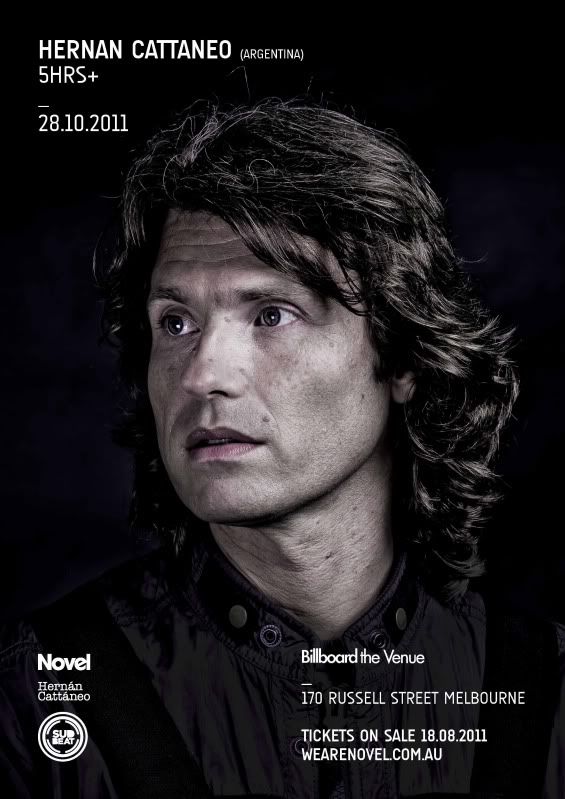 Death, taxes and Hernan Cattaneo. If electronic music was the pursuit of punters, then you could bet on the Argentinean every time. The progressive superstar has garnered diehard fans all across Australia courtesy of his infallible ability to make a dancefloor swoon. Expect this following to swell after Cattaneo's upcoming trip to the Antipodes, a five-date tour coming in late October.
Cattaneo has been revered as a progressive house master craftsman ever since he was handpicked to succeed DJ legends like John Digweed, Deep Dish and Sasha on the aptly named Masters series for Renaissance. Over the years his mixes have shifted seamlessly through genres as the spinner has displayed a renowned ear for both melody and the lush lulling grooves.
In 2009 Catteneo extended his repertoire by starting the Sudbeat imprint, built on the foundations of crafting tunes with depth and quality. So far the fledgling label has showcased releases from respected dance music purveyors like Danny Howells and Guy J, while nurturing the next generation of white-hot producers, with releases from Marc Marzenit, Soundexile and M.O.D.E, among others.
As a DJ, producer and label boss, Cattaneo's passion for his craft and attention to detail is always faultless. It's this relentless focus on quality that'll ensure his October tour of Australia is remembered long after the last record is played.
more information
www.wearenovel.com.au
I'm been slow putting this up, I was hoping for more info and maybe a better pic !